A collaboration with Animate Cafe was decided to commemorate the 30th anniversary of the publication of the popular light novel "Slayers" by author, Kazumi Kamisaka and illustration, Arizumi Rui. Based on the concept of "producing an animate cafe by utilizing the gourmet knowledge that the main characters Lina met during the trip!", A collaborative cafe "Kafyu Ryukoshitei" will be held from January 15 to February 17 Opening limited to Good Smile x Animate Cafe Akihabara & Nihonbashi, Osaka.
"Kafyu Ryuetsutei" sells food and drinks with characters and magic spells as motifs. "Black dragon tribute cabbage and pork sliced ​​miso stir-fried rice bowl" ¥ 980, lunchtime limited menu from noon to half past 3 pm "White Mail Pizza pie" ¥ 980 , 4 to 9 pm dinner-time limited menu "Lamb meat ladle (Shiogama herb)" is 1320 yen, and if you order a collaboration menu, you will get one original coaster (random from all 15 types). Also, if you order "Giga Slave" from the challenge menu, roll a dice and get 1, 3 and 5 you will receive a random "rough illustration sheet drawn by Mr. Araizu Mirui" .
In addition, BIG acrylic stand keychains (6 types / 1600 yen each), cork coaster sets (2 types / 1200 yen each), and trading acrylic stand keychains (7 types / 700 yen each) are also available as original goods. During the event, you will receive a "paper-style card written by Dr. Kazumi Kamisaka" for every 3000 yen you purchase for food and drink menus and goods. Details are announced on the official website ( https://cafe.animate.co.jp/event/slayers2001/ ).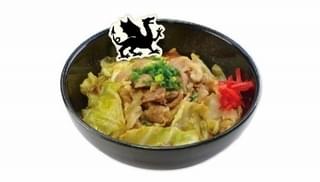 `` Black Dragon tribute miso fried rice bowl with cabbage and pork slices ''
See larger image
In response to the collaborative cafe, Mr. Kamisaka said, `` While there are many fictitious ingredients that I wrote as I came up with Tekuto, those who thought about cooking, how to interpret and reproduce it, are worried. I'm looking forward to what they have become. I wish the cafe a great success ~ ".